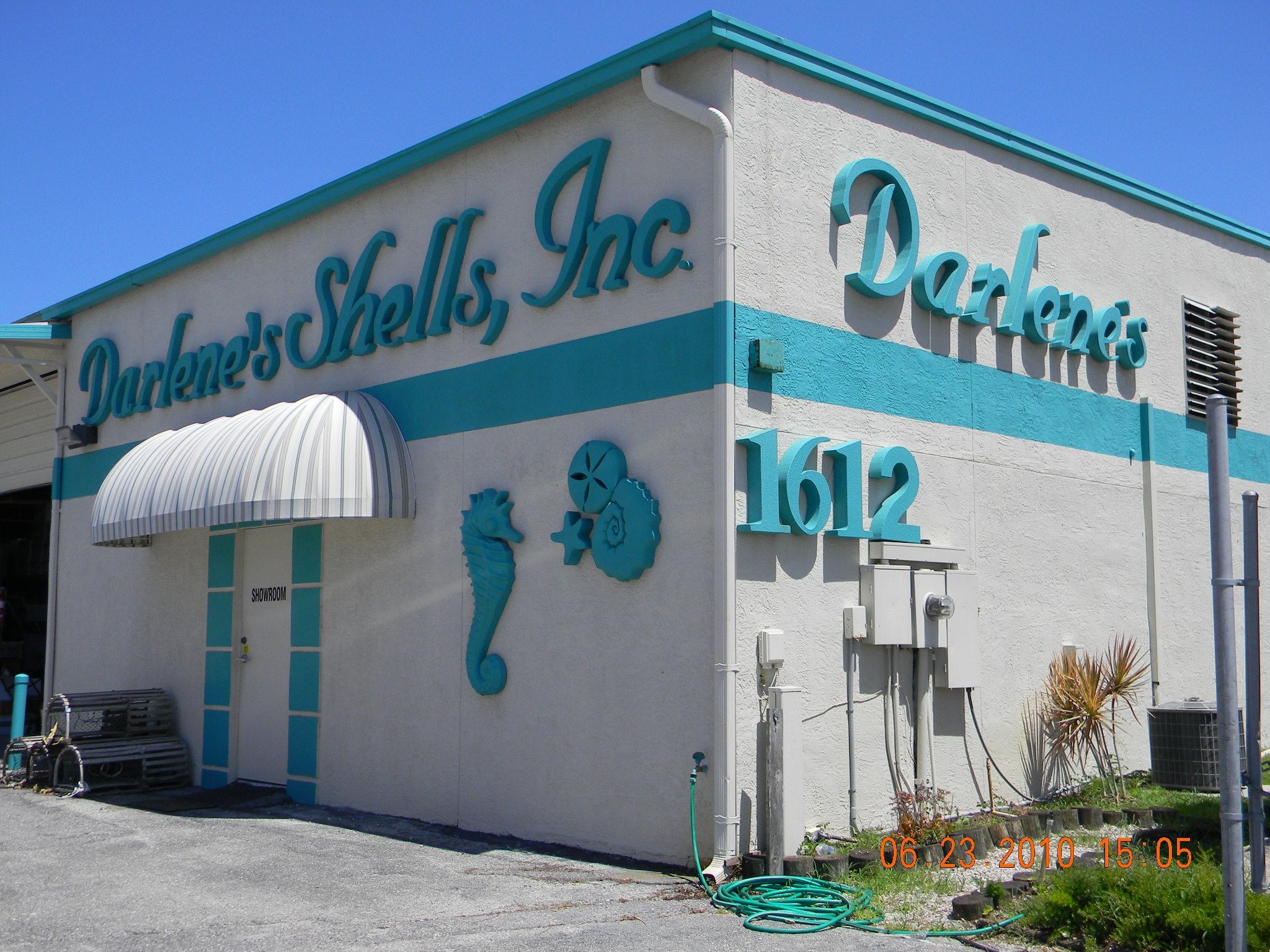 COMPANY HISTORY
Welcome to Darlene's Shells! We are a family founded, owned, and operated business established in the early 1970's. From humble beginnings, the business began on the Gulf shores of Naples, Florida, in the living room of our most beloved Darlene McCormick. Little did she know at the time, her personal gatherings of shells and hand-made creations were the beginning of what would become a successful family legacy. Her passion and tenacity soon outgrew the confines of their home and before long, she and her husband, George, relocated the growing business to a warehouse in Palmetto Florida, where you can still find us today.
With the help of family and loyal employees, including the late John Taggert who worked with us for nearly 30 years, they successfully built the Darlene's Shells name to the success it is today. With routes up and down the east coast from Florida to New Jersey, and as far west as Mississippi. We have a beautiful showroom at the warehouse in Palmetto, and two tractor trailer showrooms that travel the eastern Unites States directly to customers, driven by father and son, Ed and Michael Iwanowski, brother and nephew to the late Darlene, and new owners of the family business.
Ed joined his sister Darlene, and brother in-law George, with the business in 1981. Ed and George were the original designated traveling sales team. Michael helped manage the warehouse throughout high school and college, and rejoined the family business in 2013 taking over his Uncle's route when George made the tough decision to retire from the road. Long-time family friend William, and George and Darlene's nephew Tony, also joined the business, and proudly still stand with us today.
Currently, our sales trucks are run by teams Ed and Tony, Michael and his assistant Pete. William Johnson is our General Manager and oversees operations of our warehouse in Palmetto, Florida, multiple annual tradeshows, and our new permanent showroom at AmericasMart in Atlanta, Georgia with the assistance of our Sales Manager Jacob Price, and tradeshow sales associate Shain Lewers.
Most of our product is imported from Philippines, India, Taiwan, Thailand and Mexico. These coastal communities locally consume the shells' organisms. The leftover biproduct (the sea shell), is then processed and used for shell crafts and souvenirs. Procuring our product in this manner encourages and ensures less waste of our precious resources, and helps support local fishing villages and communities who rely on the shells' organisms for both food sustenance and resource economics. The remainder of our product is acquired locally, here in Florida, from coastal fisherman to support our own U.S. coastal markets.
As an established family business with over 45 years of experience wholesaling seashell and nautical inspired products, our goal is to share our passion with our customers, and help you find the perfect novelties to enhance and grow your business. We aim to provide merchandise your customers will love! From Sea Life, Home Décor, Holiday accessories, and Shell-based jewelry, your customers are sure to find something for everyone!